Best Uses for Awning Windows
Awning windows are very versatile windows that have a variety of uses. Whether on their own or in combination with other window types, awning windows provide you with many benefits over other styles of windows, including ease of use, improved ventilation, and design versatility.
There are a number of ways to use awning windows in your home. Below are some of our favorites, found on Houzz.com.
Awning Windows as Standalone Units

Traditional Exterior by Minneapolis Architects & Designers TEA2 Architects
Many people envision small rectangular windows when they think awning windows, but, in fact, they can be very traditional in appearance. Awning windows are attractive as standalone units because they offer versatility that other types of windows cannot match.
Awning Windows in Bathrooms

Bathroom by New Port Richey Architects & Designers Bud Dietrich, AIA
Want to improve the natural ventilation in your bathroom without sacrificing your privacy? No problem. Awning windows can be installed higher on walls than most standard windows—and with easy hand crank operation, they give you the ventilation you desire with the privacy you need.
Awning Windows in Kitchens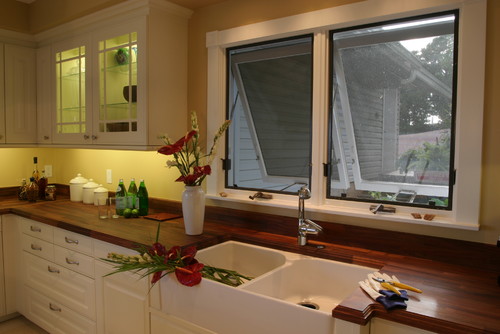 Contemporary Kitchen by Kailua Interior Designers & Decorators Archipelago Hawaii Luxury Home Designs
Awning windows are popular—and smart choices—for kitchens, particularly in the sink area. Leaning over the sink or counter to open traditional windows in a kitchen setting can be difficult, but with awning windows, letting in air is simple. A simple crank allows you to quickly and easily open your awning windows—making them ideal for hard-to-reach areas in the kitchen.
Awning Windows as Accents

Traditional Exterior by Philadelphia General Contractors Buckminster Green LLC
Awning windows make an excellent accent window. Popular above doors, fixed pane windows, or as part of a bay or bow window, awning windows give you additional ways to increase natural lighting and more versatility in ventilating a room in all weather conditions. In this image, we see awning windows installed in a sun room over French doors and fixed pane windows—maximizing natural lighting and ventilation.
Awning Windows in MD, DC & VA
If you are looking for awning windows in the Washington, DC metro area and would like a window replacement estimate, contact the replacement window professionals at Quality Window & Door today or visit one of our showrooms in Maryland or Northern Virginia.
Simply fill out the contact form on the right or call us at 1-800-370-8751 to request a free in-home replacement window consultation today!
Why Choose Us?
All of our consultants have 10+ years of experience
Learn about how our educational approach makes Quality Window & Door stand out from its competitors.