Eastern Maryland Home With Weather Shield Windows
About The Project
This home, designed by Alt Breeding Schwarz Architects of Annapolis, MD, features a number of traditional windows styles from Weather Shield.
The windows were supplied by Quality Window & Door and feature aluminum-clad exteriors, low-e glass, and a variety of energy saving features.
The lower windows are operable double hung windows and the windows above are inoperable direct set windows designed to maximize natural lighting in the interior of the home.
Variety of Traditional Window Styles
The rear of the home features a different style of window from the front of the home. The windows on this side of the home are more modern in style, without grilles, maximizing the view of the rear patio and backyard.
There are a number of patio doors leading to the patio and pool deck while opening up the interior of the home to the outdoors.
The front of the home, in contrast to the rear, features only traditional styled windows. Double hung windows are the window of choice on front of the home, with a large eyebrow window as a centerpiece.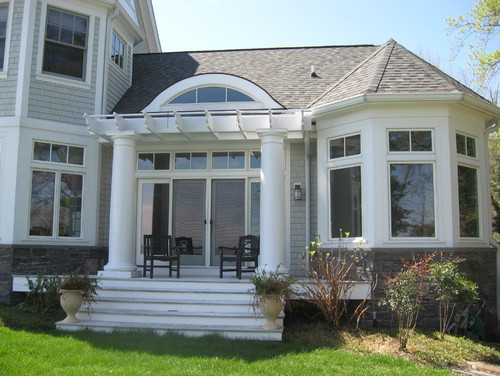 Awning windows, casement windows, sidelites and hinged french patio doors flank the side deck on the home, filling the interior of the home with an abundance of natural lighting.
About Weather Shield Windows & Doors
Weather Shield is a recognized leader in the world of windows and doors. The construction of Weather Shield® Windows and Doors ensures products perform at or above expectations. All of Weather Shield's products are backed with over 55 years of experience and a warranty that reinforces a commitment to quality.
With six product lines, Weather Shield gives consumers ultimate control over style, operation, and performance of their window and door products. With choices of wood, fiberglass, fiberglass-clad, aluminum-clad, and vinyl-clad windows and doors, Weather Shield has a project that meets any style and budget.
Why Choose Quality Window & Door As Your Replacement Window Contractor?
What makes Quality Window & Door unique is our educational sales process and our non-proprietary selection of replacement windows. Many window contractors in the Baltimore-Washington-Northern Virginia area sell only their brand and employ high-pressure sales tactics. You'll never get "hard closed" at Quality Window & Door. Call our office today or schedule a visit to one of our local showrooms and you'll see why we're the "go-to guys" for many of the top builders, architects, and commercial property management companies in the area—as well as discerning homeowners!
The more you know about new or replacement windows, the more likely you'll be to buy them from Quality Window & Door, so call us today and tell us about your situation.
Why Choose Us?
All of our consultants have 10+ years of experience
Learn about how our educational approach makes Quality Window & Door stand out from its competitors.